Whether you know this year's show as The Battle of the Brands, The DC ADDYs, or officially The American Advertising Awards-DC, we are delighted to announce some big wins for work done on behalf of our client the American Academy of Orthopaedic Surgeons (AAOS).
AL&H grabbed one Silver ADDY®, one Gold ADDY® and Best of Print…all for work that goes right to the heart of what we do here…advocating for improving the human condition. A special congratulations to AL&H team members Chuck Husak, Melissa Meyers, and Bonnie Weaver and contributors Clint Ford and MENTAL productions for making this great work happen. And a big thank you to Sandy Gordon over at AAOS.
"Anatomy" Advocacy Print Awarded Best of Print and Gold ADDY®
In a timely message the "Anatomy" print reinforces the importance of keeping our nation's workforce on the job and the added value AAOS brings to the economy. In addition to the recent ADDY® wins, "Anatomy" earned a special "Outstanding Advertising" certificate from POLITICO, recognizing outstanding readership response. The "Anatomy" ad was rated #1 in the healthcare category had the 2nd highest combined ad recall score (Ad-Q score) out of all 22 ads in the publication.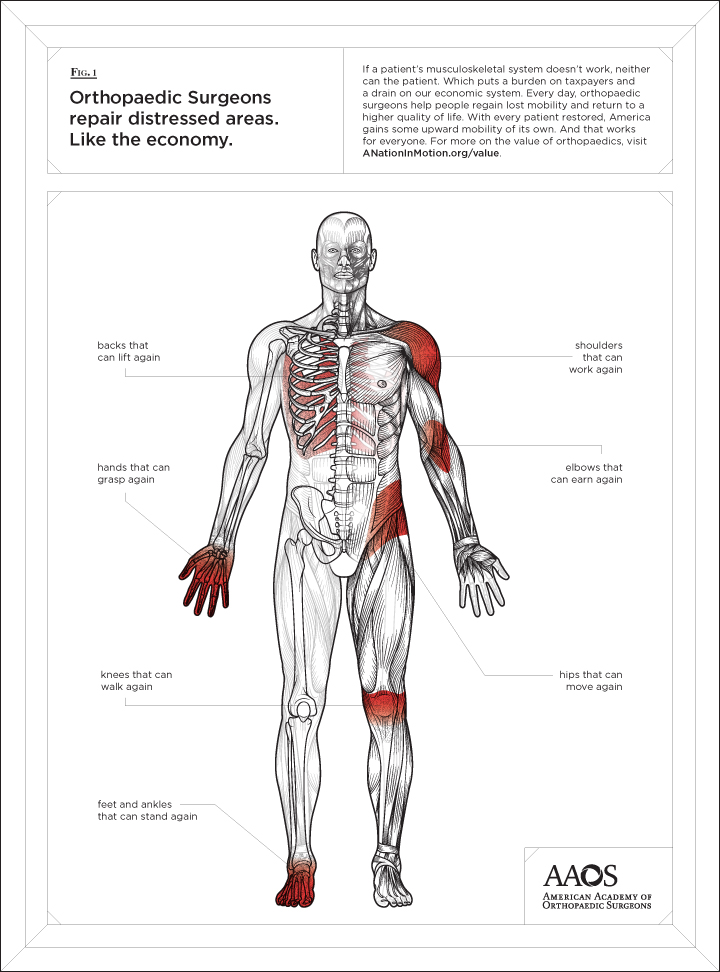 "Body Double" TV Awarded Silver ADDY®
The following TV spot, "Body Double", for AAOS creatively illustrates how our bodies are sometimes the only thing holding us back from doing the things we love to do. It encourages people from all walks of life to stand up and fight for their mobility.
Until Next Year…
AL&H creative Bryant Prince admires the crowd.